Tell us what's in the TPP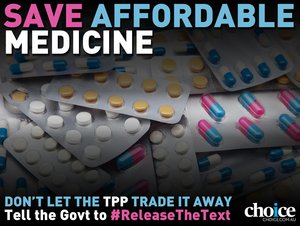 Negotiations on an international treaty called the Trans-Pacific Partnership (TPP) Agreement have been going on in complete secrecy for the last few years.
The TPP could impact on health initiatives, food labelling, the cost of medicines and copyright law. The negotiations are likely to finish soon, but the public has yet to see the agreement.
We need to know what's at stake in the TPP. That is why we are calling on the Federal Government to bring the Australian public to the table and release the text before signing a final agreement.
For more information visit the CHOICE website.
Tell the Department of Foreign Affairs and Trade to release the text of the TPP
Our Goal: 5000 submissions