Help us get Health Stars on every major product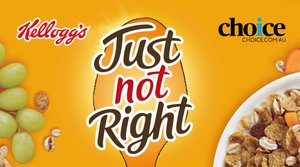 Major food manufacturers are refusing to place health star ratings on their products.
Healthier food choices will be easier when we can compare the health star rating of different products. But seven major companies are denying you this information.
Join us to get health stars on the front of every major product.
Want more information? Find out more about health stars on our website.
Tell Kellogg's and other food companies that you want health stars on their products
Send major food manufacturers an email to tell them you want health star ratings on every product.
Your email will be going to Kellogg's, Mars, Mondelez, PepsiCo, McCain, Goodman Fielder and George Weston, the top food manufacturers in Australia who have refused to speak to us or are not rolling out health star ratings.
Our Goal: 10000 Emails sent